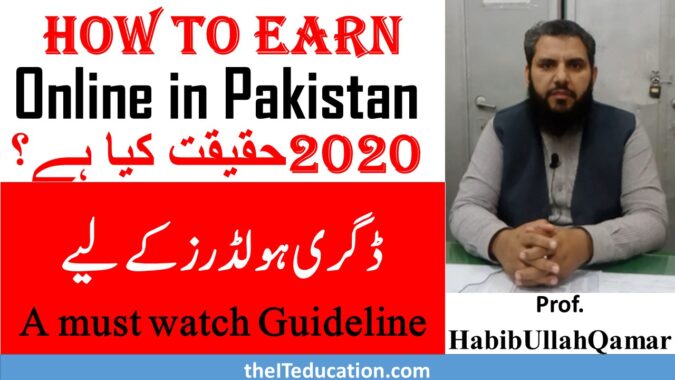 Hello now a days how to earn money online in Pakistan by working at home might be the most searching question on the Google. Present situation affected by pandemic corona-virus has locked down of almost every technical and non-technical profession in his/her home. When I search about different online earning methods available in Pakistan for such students who have a proper degree and skill set like graphic designing, web development AutoCAD draughtsman etc. Peoples are in search of some key opportunities to earn money online in Pakistan without investment in 2020 e. they are looking websites online earning app, online earning clicking and type work at home and other opportunities online earning in Pakistan.
I decided to help up the students by sharing with them what is the reality of online earning in Pakistan and what are different methods by which a student can earn money online 95 staying at home and working at home. About online working in Pakistan are being shared and uploaded in the form of videos on YouTube but most of them are fake and the market of freelancing in Pakistan in is getting decreased in popularity. Comments on social media platforms in which people are discussing about fake online earning methods shared by different you-tubers and bloggers. In this pandemic situation most of the people are trying to search some earning methods while on the other hand the Peoples with negative intentions are asking them to you by providing them fake online earning opportunities and charged them with their registration fee by offering them online earning by typing are clicking work at home.
I have tried to explain what actually online earning in Pakistan and what are real online earning methods that can be adopted by those type of students who have certain specific and dedicated skills in their hand. One thing I must tell them online earning is not an easy task in most of the videos you-tubers and bloggers present in front of them. Time job rather a full-time activity mast needs to learn first. DigiSkills is one the best professional training which is offering free training about freelancing, online earning website development, Search Engine Optimization other courses. Free in Digiskills.pk and can complete world class online earning training in Pakistan even Indus pandemic corona-virus situation by staying at your own home. Have completed 4 DigiSkills.pk courses although I have a master's degree in Computer Sciences but I have found these courses very valuable towards online earning carrier as a freelancer in Pakistan during 2020.
How to Earning Online Pakistan 2020 | Reality and Methods of online Earning in Pakistan